Stop by our

convenient
Pittston Rink Pro Shop location...
EZ access

,

1.4 Miles

off

Exit 175A

/

Interstate

81
&
Rt
315
Always Open inside of

R

evolution Ice Centre
12 Old Boston Rd

in

Pittston

,

PA

(570)-602-ICE1



Get Skates

with us

->

and

get

Fit

, get

Service

, get

FREE

Sharpenings, get

FREE

Heat Molding/Compression Fit

, Get

CREDIT

off for old skates, Get in the Game!

Check out our
Full Service Skate Packages
>>>
SKATE SALE... on older Clearance models (limited sizing)



33% off on In-stock Goal skates! (older CCM models)
33% off on In-stock Graf skates!
33% off on In-stock Youth Skates! (Adjustable models only)

All include our $120 FREE SERVICE PKG:
Sharpens, Heat Molding, Profiles, Boot Punches/Adjustments, Boot Stretching, Warranty coverage & more...(See Gold Package below)

Each of these models have a different Fit. Our Services will Customize your new skates to fit like a slipper!
---
Skate Packages- (Hockey)
SO YOU THINK YOU SAVE WITH INTERNET PURCHASES? ...we will Match or Beat them... Plus get all the Services: Free Sharpenings, Heat Moldings, Blade Profile , Guaranteed Fit & Follow-up Adjustments that you won't get anywhere else


Here's what you get in our Hockey Skate Packages, besides

Honest advice

,

Professional Fitting

and

Full Warranty

:



BRONZE- Buy Any pair of skates and get a FREE Fitting, skate Sharpening/Cross-Grinding.

SILVER- Buy Mid-level skates (or over $149) and get (3) FREE skate Sharpenings; Fitting; and (1)Heat Molding/ Compression Fit Machine


GOLD- Buy top level skates (or over $349) and get complete full-service package-> all FREE:
(3) Free Heat Molding/Compression Fits

($30 value

each

time)

(5) Free Skate Sharpenings

($35 value)

Free Blade Profiling service ($30 value)

Free Boot Punch/ Adjustments ($25 value)

for added comfort/ reducing pressure points.

Free Boot Stretching Service

($25 value)

one foot bigger than the other?

Trade-in Credit for your old skates (TBD value) or the ones you purchased elsewhere at the Wrong Size!
Free use of Loaner skate

for any reason .

Full Warranty coverage

on

any problem

for 90 days (we'll get you new skates from manufacturer & handle Returns & Shipping and handle it all for you!).



Free Shipping

on Custom-ordered skates (get any model you want, not just what we have in stock).



Add up

Total Savings of well

over $100

on top of already low prices!...We are a Full-Service Pro shop...we help you get the best bargain and work within any budget. We sell to the Parents vs Kids!
Don't make the mistake of buying online, when you can get properly fitted and get all of the Freebies included for the Same or

better Price

! Plus we'll blow your socks off with all of our Follow-up Services! Getting good Footwear is critical and we'll make it painless...give us a Try-on.
---
ATTN:

OPEN- 7 days a week;

Please consult "STORE HOURS" tab.
Please call Chris for special Fittings, Appts, & Questions: 570-436-4162
Gift Certificates (a Great idea!)

Not sure what gift to get your special Hockey Player?

We suggest a Gift Certificate to cover it all & let them choose what they want.
Easy to redeem, no limitations/restrictions

You can Charge by Phone or

Now you can Use your Credit Card

:

Go to BUY GIFT CERTIFICATE Page to Checkout
For Questions, Email us @ info@HattrickHockey.net
FULL SERVICE, Fittings, Thermal Shaping, Boots in Stock , Blades, Parts, Accessories...
No other Pro-Shop comes close!
...Here's what they are missing:
The Tools & Machines

Experienced Skate Techs
Inventory & Cust Team Orders

Service Pkgs/Repairs/Warranty program


Soon to announce Our own Warranty


Let us help you get informed about the latest Hockey, Figure Skating, Inline gear, Team apparel & Jerseys, Goalie gear, and so much more....we'll perform any Skate Repair or impart experienced equipment advice....

just ask our friendly staff or stop in for a Free Skate Inspection.

Custom Skate Fitting
---
Don't suffer through the pain and limiting performance of poor fitting skates. Hat Trick Hockey provides you the options that make your purchase of the right fitting skates worth it. Mid to high end quality skate products are stiff and constructed of materials which are unforgiving and challenging to fit to the your foot 'out of the box' . Attempting to wrap these materials around your foot is the #1 reason skaters end up buying a poor fitting pair of skates.

If you want an exceptional skate fit, you need your skates customized to fit your foot. We consider all of the factors such as your height, weight, skill level, level of Play, shape of foot and more(Using a 20 Point Checklist). Skates that fit work better and optimize your Comfort and Performance. Do yourself a favor and experience the difference, you have nothing to lose.

Most Premium Skate Shops charge a $50.00 Assessment Fee to cover a professional evaluation of your needs, followed by a recommendation of the skate that will be most comfortable and your best Fit for Performance. Hat Trick Hockey provides this service for FREE… Just make an Appointment for a 45 min FITTING.
Email us at: info@HatTrickHockey.net

Check out our New Pages (Updated)
< click >'Team Orders' -> for Info & Ordering of All Team Equipment for your Organization
< click > '

Jerseys & Uniforms

' for Info & Ordering of awesome Custom JERSEYS


< click >'But Gift Certificate' -> for Credit Card or PayPal Purchases of Emailed or Printed Gift Certificate to your Player's favorite store!

SERVICES & REPAIR ... 'we fix anything'
Equipment/Pad Repairs

New

Refurbed & Restored to 'like new' condition.

Helmets, Pads, Gloves, Bags, etc...

min 2-5 day turnaround (depending)

Most any gear refurbished
Sharpening/Grinding

(included w/Purchase)

Heat molding

in approved Skate oven (included w/Purchase)

Compression Fit Machine

(included w/Purchase)

Skate Profiling/Contouring

(included w/Purchase)

(see below)

Boot punching/ Fit adjustments

(included w/Purchase)

Boot Stretching

(included w/Purchase)

New




Sno-Sealing/ Polishing Boots

Blade change(Steel Runners) & Blade-Holder mounting

Rivets Repaired

Eyelets Replaced

Blade

(skate)

Straightening
FREE SKATE INSPECTION!
Stop in and hand us your Skates for a Free Check-up. It takes just a few minutes for honest assessment of something very important- where the rubber meets the road... Here is what we typically cover>>
Use a Level to check Edges

Use Blade Depth Gauge to check Hollow

Check/Measure Profile on blade

Visually inspect the Holder(we find Cracks where you may have never noticed).

We'll Straighten your Blade for Free
..... We have all of the Proper Tools, Certifcations, & Knowledge at your Service.
New Service Offered:
Custom Skate Profiling-

Optimize & Perfect your Blades to your skating style...
get Faster & less tired
FREE with most Skate Purchases!

(click:
"
Blade Profiling
" button for more info)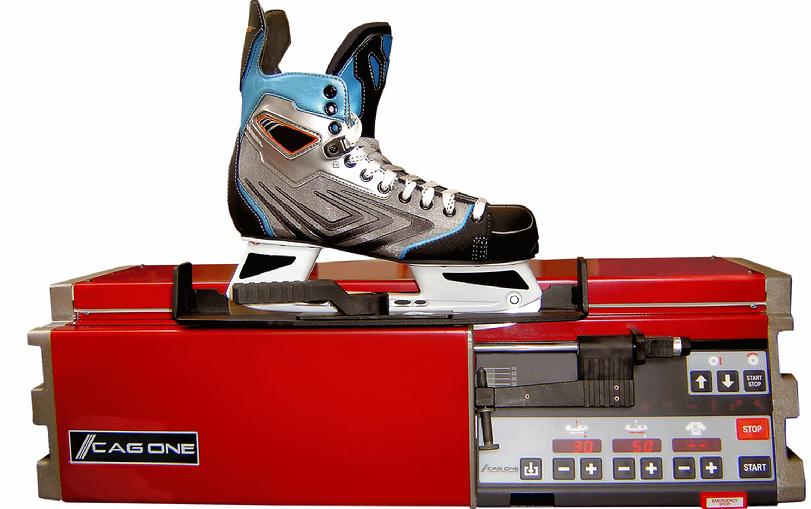 Automated Profilier machine
Now Offering three choices in Skate Blade Contouring:
#1

Profile

- CagOne automated machine
#2

Custom Radius

- Blademaster
#3

Deluxe Combination

of Profile and Radius
Benefits of Contouring (Profiling) skate blades

:
* More powerful strides and better glide
* Improved balance & Stability
* Sharper Quicker turns
* Explosive starts
* Reduced fatigue
* Increased agility
* Increased speed



Price includes

normal Sharpening, free adjustment, and

Profile is Free in Gold package....with Purchase of Skates
Home of the $39 Composite stick and the $35 Shield!
We now Carry TRON Hockey gear... Inexpensive Jerseys (for the whole Team) and we stock Visors from just $24.95, with best Anti-Scratch & Anti-Fog for $10 more !
Tron Visors are easily in same bracket of quality as visors retailing at $60-$70 like Oakley and Bauer. It has Scratch & Fog Resistant coatings.
Hat Trick of Sharpening! We have 3 machines: BladeMaster, CagOne, & Blackstone(new FBV cut->)
FLAT BOTTOM V™ Technology is now offered in Pittston Pro Shop
The Flat Bottom 'V'™ (FBV™), is an evolution of the traditional method of sharpening skates and offers the skater the ability to have both speed and agility. A blade sharpened with the FBV™ has the flatness of a shallow hollow for more glide, but has more distinct edges for the bite needed for turning and stopping that you get from a deep hollow (the depth of a 1 inch radius and the bite edges of a ½ inch radius). This new cut is just one of three Offerings in Skate Sharpening Options at
Hat Trick Hockey! Give it a try...Let us equate your numbers(ie: X7) into what you need.
Equipment Cleaning Service Available
Get the stink out

, enter

"

No B.O.-zone

"

Professional Service using Ozone unit

No water or harm to expensive gear

EZ Drop-off/Pick-up @ Pittston shop

Quick Turn-around
Custom Orders-

If you don't see it, we'll get it in for you....usually takes 1 week or less (can expedite shipping). No extra costs or fees for Shipping.
Just send an Email to:

info@hattrickhockey.net
*Custome Orders require nominal 20% deposit and are non returnable
---
Our Tent Sale is the best In-season Hockey sale in this area with savings up to 60% on Hockey & Figure Skates, Inline Skates & Wheels, Lacrosse, Used Goal Pads, Composite Sticks, Gloves, Stick Blades, Clearance items, Jerseys & Apparel, and much more!
Revolution Ice Centre Parking Lot - and entire Store Sale:
Saturday Oct 3...11:00 am - 5 pm
Sunday Oct 4.....11:00 am - 5 pm
Check out all of the new Sticks, Bags, & Gear that just came in



Take 10% off all

Player & Goal Sticks

currently on our Racks

Add 10% off to

Sticks

currently on Sale Rack for

30% off

Add 10% off to

Skates

currently on Sale for

up to 60% off
>
20% off

Game Jerseys (all except Practice)
Bauer Deluxe Visors
older model Goal Sticks
Fischer Goal Sticks

> 40% off
Select Used Goalie Pads/Gloves/Blockers
Sr 2-piece Stick Shafts/Blades (makes sense, can change Blades)
Bauer Street Hockey Gear

> 50% off
Apparel Close-outs
Lacrosse- misc items

Jr 2-piece Stick Shafts/Blades (makes sense, can change Blades)
Bauer Skate Laces

* Misc Clearance Skates- Graf Hockey, Black Figure skates, etc...

Misc Used Gear

*All skates include Services- minimum Free Sharpening & Heat Mold ($37 value & Service you won't get anywhere else!)
Hat Trick Hockey Pro Shop... 'Where Fit Happens'