Pocono Pond Hockey Report
** If you would like to be Updated with latest

Conditions

,

Events

, &

Invitations

please join the Pocono Pond Hockey FaceBook Group:
www.facebook.com/Beckers-Pond-of-Dreams
** If you would like to Participate in any way with upcoming Pond Hockey Gatherings, please Fill out the Sign-Up Form below>>>> it takes 30 Seconds >>>> Thanks!

Pond of Dreams

-

(

Home for Pocono Winter Classic

)

5 miles south of Lake Wallenpaupack, Ultimate Heated Shed/Locker room @ Pond side, Sat TV in shed, Lights, Bonfire pit, Sledding Hill, Gas Grills available, Re-Surfacing equipment, (4) metal 4x6 goals, Low-boards, all on a private Pond at:

226 Egypt Rd, Tafton, PA


Coordinates:

DIRECTIONS from Scranton:

Take I-380/ I-84 East to I-84 East toward Milford

Exit #26 for Tafton/Promised Land
Left on Rt 390 North...

go for ~1/2 mile

Right on Egypt Rd...

go for exactly 1 mile

Right at "226 Egypt Rd" (Green Mailbox)
Park in Front yard, if Car is not good in snow, stay on Driveway


B.Y.O.- Food, & Beverages... Get dressed in the shed, sign the guest Book, take a shift...

Throw some lunch on the grill, with your Skates on

We may try to keep a rink cleared for the little ones, mostly Adults show up.


Shovels supplied for Zamboni cuts...it's all part of the game.

Apr 8, 2022-
CURRENT POND STATUS

-

0 inches

of Ice

Ice surface


Sustained ice for (0) consecutive days

Next Skate expected- Saturday Dec 28th, 2019

After-Party in Shed... bring plenty of libation
SIGN-UP
to get on the POND REPORT list
Sign up for 2022/23

Pocono Winter Classic

below

Pond Hockey Pick-up- Jan 1st, 2023


4 on 4, if we get enough for teams and then play short but numerous games all day long

Bring some friends and experience Outdoor Hockey

You will get subscribed to the Pond Report if you fill out a few lines below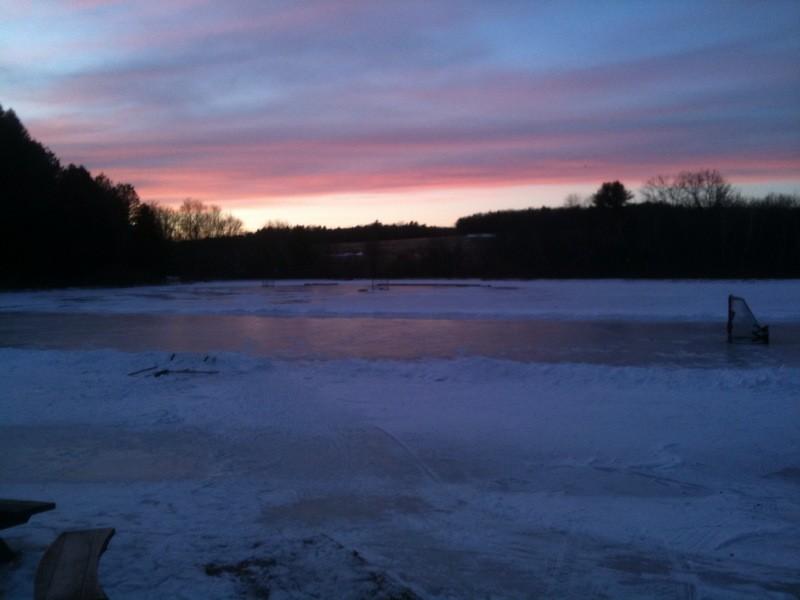 Pondage Sunset Feb 6th
1/1/2010: Pondage
Some shots of Becker Pond action
Hat Trick Hockey Pro Shop... 'Where Fit Happens'